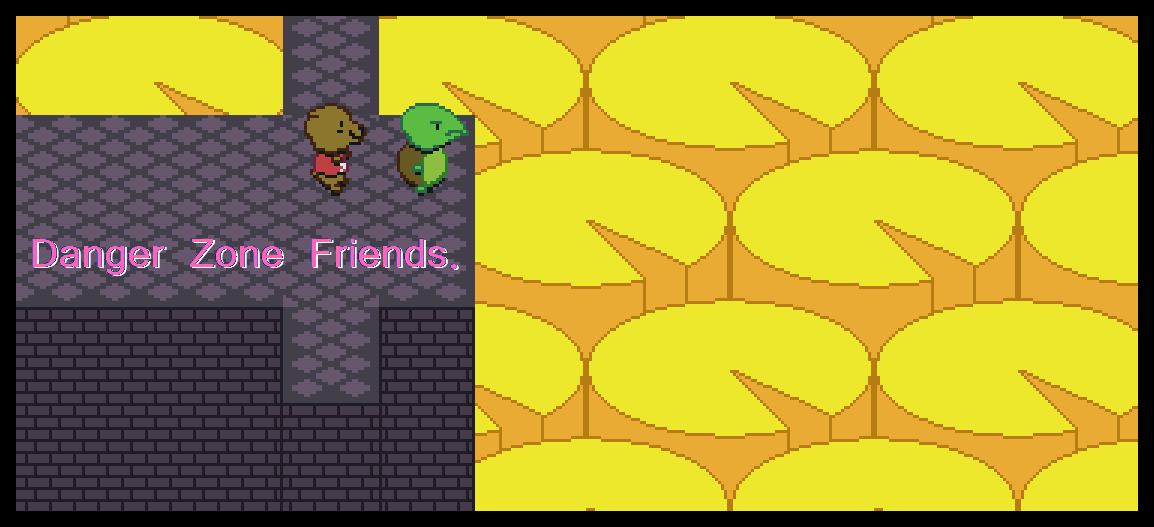 Danger Zone Friends
A downloadable game for Windows
Danger Zone Friends is an RPG about two roommates on a grocery trip gone awry.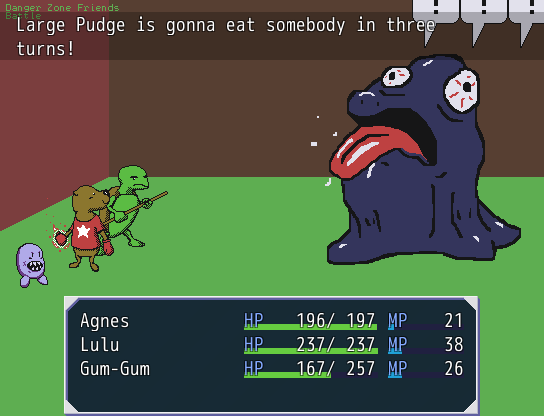 Agnes and Lulu set out to make a simple errand, but along the way, they find themselves taking a wrong turn into the Danger Zone! Will they be able to survive the hazards of the underground world, return to the surface, and complete their shopping trip?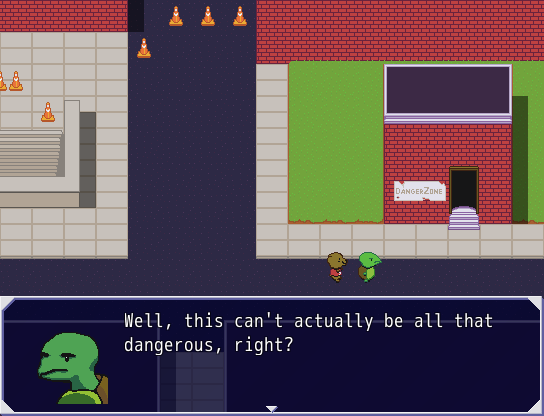 This one-of-a-kind JRPG-esque adventure features a 2+ hour story, a complete original soundtrack, the occasional joke, and tactical combat.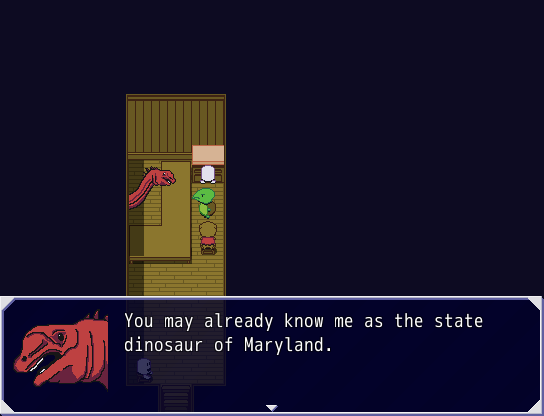 Windows only.
Press Alt+Enter to toggle fullscreen!
All writing, design, art, sound, and music by me.
Ft. voice by the enigmatic Rob "Robby" Robertson.
Third party scripts by Cidiomar R. Dias Jr, Jet, Lecode, modern algebra, and Yanfly.

Stream/download the soundtrack from Soundcloud.
The rest of my games and words are on my website.
Follow me on Twitter.


Featured in Indiepocalypse #14!

"Where many will find Danger Zone Friends to be at its peak is in its writing and narrative... Danger Zone Friends is a great example of what good fun character dynamics can be while running through absurd realities." - Jacob Vorstenbosch, The Ugly Monster

"It's worth checking out alone just to see how many cheese-based enemies the developer can come up with, honestly." - Joel Couture, Indie Games Plus

| | |
| --- | --- |
| Status | Released |
| Platforms | Windows |
| Release date | Jan 26, 2019 |
| Rating | |
| Author | Alexandra Higgins |
| Genre | Role Playing |
| Made with | GIMP, RPG Maker, Audacity |
| Tags | cheese, Comedy, Cute, Fantasy, Funny, JRPG, RPG Maker, Tactical, Turn-based |
| Asset license | Creative Commons Attribution_NonCommercial v4.0 International |
| Average session | About a half-hour |
| Languages | English |
| Inputs | Keyboard |
| Links | Blog |
Comments
Log in with itch.io to leave a comment.
I really like the vibe of this game.
I played some on stream if you are interested. (1:46:08)
Aw, thank you so much! It was fun watching the stream!

And thank you for finding the wall glitch! I'm working on the sequel and just fixed it so it won't happen with that tile again.
Thanks for this fun little game!
I did a Let's Play for this:

Oh, wonderful, thank you!
Sorry about the moving tile puzzles - thankfully, they only make a couple brief appearances after the 2nd dungeon.
Rot13 for the solution:

Fgnegvat sebz gur ebbz jvgu gur erq urnyvat Cbttyr:
1)Gnxr gur 3eq gvyr sebz gur gbc
2) Gnxr gur gvyr qbjajneq
3) Gnxr gur yrsgzbfg gvyr, gura zbir nyy gur jnl evtug, gura zbir hc
Vg vf erpbzzraqrq lbhe cnegl vf ng yriry 3 orsber gur obff svtug.

I loved this game!!!! I thought all of the jokes were hillarious and I loved all the cheese related puns.
I totally didn't see the twist coming at the end and was pleasantly surprised! The battles were challenging but a lot of fun to figure out what I was supposed to do.
A whole lot of fun!! Thank you for making this gem!!
best game I ever played! can I help you?